The #1 rated Asheville bed and breakfast is also an iconic North Carolina landmark. Step out of your vehicle and into a place with historical beauty so dramatic, it quiets the mind and stirs the heart. Here, at Reynolds Mansion, history takes center stage and the rigors of everyday life are washed away. With romantic architecture, Reynolds Mansion, an Asheville Bed and Breakfast Inn, located in Reynolds Village, offers views of the Blue Ridge Mountains and easy access to great attractions in North Carolina. Let Reynolds Mansion Bed & Breakfast Inn carry you away from the trials of everyday life.
Considered one of the best and most original interpretations of Colonial Revival architecture in Western North Carolina, Reynolds Mansion is a historic treasure not to be missed. Steeped in history with ties to Senator Robert Rice Reynolds, Evelyn Walsh McLean and the Hope Diamond, and the early small emerging population of what is now Asheville, the magnificent mansion was built in 1847 by Daniel Reynolds.
Listed on the National Register of Historic Places, the Reynolds Mansion Bed and Breakfast Inn is well documented in many books and has long been considered one of the jewels of Blue Ridge Mountain historic homes and is the top-rated Asheville Bed and Breakfast. Continue reading "Rated #1 Asheville Bed & Breakfast by Guests on Trip Advisor!" »
On August 27, 1960 Senator Robert R. Reynolds  known to Asheville as "Buncombe Bob"  held a lavish "coming out" party for his daughter Mamie Spears Reynolds as she approached her eighteenth birthday.  Meyer Davis, the famed society orchestra leader, was flown in from New York and wrote a song for the occasion, appropriately called "Mamie".  Mamie wore a white silk gown created for her by Christian Dior of Paris.
Mamie Reynolds had a governess by the name of Mimi Palmer and just recently the nephew of Mimi Palmer Mr. John Nicholson Jr. visited with us here at Reynolds Mansion.  Mr. Nicholson generously donated a signed copy of the original Meyer Davis sheet music written for young Mamie.
| | | | | |
| --- | --- | --- | --- | --- |
| | | | This weekend three past college roommates named, Julie Emmons, Kristen Smith and Sarah Langston were guests of ours here at Reynolds Mansion and one morning at breakfast, Julie and Kristen delighted everyone here in playing the piano rendition of the Meyer Davis piece entitled "Mamie".   Having not been heard since August 27, 1960 it was a moment where the past mingled with the present here at Reynolds Mansion.  Below are a picture of Julie and Kristen at the piano and also the video clip of their performance so that everyone can hear the beautiful music called "Mamie." | |
TripAdvisor, the world's largest travel reviews site, recently honored the winners of its 2012 Travelers' Choice awards, naming The Reynolds Mansion Bed and Breakfast Inn in Asheville, NC among the Top 25 B&Bs and Inns in America and in the world!  The Reynolds Mansion took the #2 spot in US rankings and #12 in the whole world.
TripAdvisor Travelers' Choice winners are based on millions of customer reviews and opinions from travelers around the globe.  The Reynolds Mansion has been reviewed by 203 visitors to the historic inn, making it the #1 ranked Asheville bed and breakfast out of 42 B&Bs in Asheville, North Carolina.
Innkeeper Billy Sanders is proud of the historic ambiance visitors can experience when staying at the mansion.
"It touches you.  It has an aura about it.  Anybody who stays in it, they leave thinking about this place," he said.
As co-owner, Sanders wears many hats, including innkeeper and chef duties.  He believes the great rankings reflect a commitment to making sure visitors have a great stay.
"You do this because you want people to have a good time," he said.
To see the full story, view the news video: http://www.wlos.com/shared/newsroom/top_stories/videos/wlos_vid_6602.shtml.
To stay with us at The Reynolds Mansion B&B Inn when you visit Asheville, NC, make your reservation online now.
Reynolds Mansion guests were delighted this weekend by having Joseph Mclean Gregory, the grandson of Senator Robert Reynolds and Evelyn Washington McLean return to his ancestral home.  Mr. Gregory was a delight at breakfast,  and was very open to sharing with everyone the information on his rich family history.   It was a dream come true for all of us here at Reynolds Mansion.
Joseph took time to sign copies of his new book "The Hope Diamond" (Evalyn Walsh McLean and the Captivating Mystery of the World's Most Alluring Jewel) for all the guests and also left us a supply of autographed copies that are for purchase here at Reynolds.
Joseph will be returning in the near future to have a scheduled book signing event here at Reynolds Mansion,  so we will keep you posted here on the blog of any scheduled upcoming events.   Copies of both of his book are also for sale on Amazon.com.
The pictures below are of Joseph Gregory with the guests and of him and Scarlett.
Many of you who have visited Reynolds Mansion, or are planning a stay here, have asked how the construction of Reynolds Village is progressing. We are happy to report that the first building of the village has been completed and the second we anxiously await completion in September. Currently there are 30 occupied residences in the village with over 200 in total by its completion in Spring 2012.
As those who have already visited us can attest, the height of the buildings in the village have had no effect on the fantastic views from Reynolds Mansion.  And with the completion of the first of the retail and restaurant space in September, food and shopping will be only a short stroll for all our guests!
Below are the most recent photos on the progress of the village. You can see that all the buildings have now been raised and the finial finishing work is at hand.
Reynolds Mansion is proud to announce a very popular venue for our guests  to do while visiting with us in Asheville, North Carolina.
Owners Josh and Steven have created a "one of a kind" Food Tour of Downtown Asheville that is entertaining , substantial, and informative.   Allowing ticket holders to tour some of downtown Asheville's most original and acclaimed restaurants, specialty shops, architecture,  and more.   We encourage all of our guests to make arrangements to schedule a food tour during your visit with us at Reynolds Mansion and see why Asheville has some of the BEST in eating establishments.  Tickets can be purchased prior to your arrival online at www.eatingasheville.com or by clicking the picture below.
Please let the innkeepers know if you have any questions regarding scheduling this exciting experience.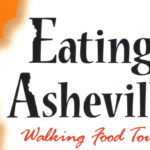 Reynolds Mansion is proud to announce the release of Joseph McLean Gregory's new work entitled,  The Hope Diamond (Evalyn Walsh McLean And The Captivating Mystery Of The World's Most Alluring Jewel).
For all of our followers and guests who know the history of Reynolds Mansion, its inhabitants, and their ties to the famous Hope Diamond,  we encourage all of you to take a moment and visit Mr. Gregory's current release on iTunes using the link below.
We are certain that you will enjoy learning more about our history,  and the history of "The World's Most Alluring Jewel"   Please be sure to leave feedback on our facebook page and twitter.  We will keep you posted on information concerning Joseph Mclean Gregory's new release, and any up and coming functions held at Reynolds Mansion in the future on this exciting subject.
We were saddened this week when all of us at Reynolds Mansion had to say goodbye and good luck to one of the original employees of Reynolds Mansion, Mr. Brandon Bond.  Having just graduated from UNC Asheville Brandon is heading to New York City to start his chosen career and all of us here at Reynolds Mansion wish him the very best in all his future endeavors.  Brandon was a dedicated and hardworking member of the staff here at Reynolds Mansion and will be greatly missed.  We send this message to his potential employers "You'll be very fortunate if you can get Brandon on your team, and the talents that he will bring to your company will be immeasurable." Don't forget where you started Brandon, and come home often.
Your "Family" and "Friends" of the Reynolds Mansion
So summer is hot here at Reynolds Mansion………. and so has it been with the guests we've had here at Reynolds Mansion.
Earlier this week we had four lovely ladies (teachers on vacation) from Chicago land here and they made full use of the pool and thoroughly enjoyed what our top-rated Asheville bed and breakfast has to offer.   The Van Meters from Cincinnati came in with four packages of shoes from "Tops for Shoes;" I probably shouldn't have encouraged them to go!   And Donna and Ken were here from Clemson and although a little hesitant to stay in Anne Lee Reynolds room, didn't experience anything out of the ordinary for all three days.  (I will say Anne Lee was very active the day prior to their arrival and I was a little worried, but she behaved herself)
And coming soon – The Bolin's were here from Apex, NC and caught something on film on the staircase of Reynolds Mansion.  They are forwarding me a copy of the picture and I'll post it for all to see when I get it.  We hope all our guests made it home safely and we look forwarding to seeing them all again.  Rhett and Scarlett say hello to everyone!